Welcome
Dobrodošli!
Successful PhD defence - Aristea Pavešić Radonja
Massive 

congratulations

 to Aristea who successfully acquired her PhD on Friday, with the defence of her thesis "Expression of aggregation-prone proteins in the blood of patients with schizophrenia and major depressive disorder". Aristea is a clinical psychiatrist at KBC Rijeka, who has been working on her research doctorate with us for the last few years, under the mentorship of Nick Bradshaw, and co-mentorship of Prof Gordana Rubeša.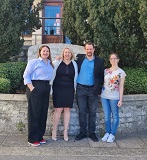 Bilateral travel grant with the University of Ljubljana, from the Ministry of Science and Education
As part of a collaboration with Prof Alja Videtič Paska from the University of Ljubljana, we have just received a bilateral travel grant to undertake joint work into the possible role of protein aggregates in suicidal tendency. The Croatian part of this project is funded by the Ministry of Sciences and Education (MZO).

New review article with colleagues from São Paulo
As part of a recent trip to the Federal University of São Paulo (UNIFESP), Nick has co-authored a new review article on the role of peptides in mental illness, which has just been published in the Journal of Neurochemistry.
New students in the lab
Two new masters students have now joined our lab, Matea Kršanac and Ema Ukić, both of whom will be studying proteins related to mental illness.
Methods chapter published
Our new book chapter, detailing many of the methods we use to study protein aggregation, has just been published in "Protein Aggregation: Methods and Protocols", part of the "Methods in Molecular Biology" series by Springer/Humana.
Undergraduate thesis defended by Mario Babić
Well done to Mario, who successfully defended his research-based thesis on TRIOBP-1 aggregation this week, with what must have been one of the Department's most slick presentations ever.
New publication on protein aggregation of TRIOBP-1
Today we have published a new paper on the protein TRIOBP-1 and its aggregation in mental illness, showing it to aggregate in brains of patients with schizophrenia and major depressive disorder, and determining the regions of the protein responsible for this effect. This paper represents a huge effort by many members of our group, past and present, as well as by our collaborators in Düsseldorf and Baltimore.
Successfully defended thesis by Tina Fartek
Congratulation to Tina, for an excellent and successful defence of her master thesis!  Tina is a veteran of our research group, having previously performed an undergraduate thesis with us.  Next up: the undergraduate thesis of Mario Babić, and the master's thesis of Anja Hart.
Lecture at HDBMB meeting in Brela, Croatia
Next week, on Friday 30th, Nick will present our research as an invited talk at the Croatian Society for Biochemistry & Molecular Biology (HDBMB) meeting in Brela.
Erasmus+ trip to Jülich
Beti has now begun an extended stay with our collaborations Dr Cukkemane and Dr Weiergräber at the Forschungszentrum Jülich, with funding from Erasmus+ and the Alexander von Humboldt Foundation. This ties into our joint project studying the structure and aggregation of the protein DISC1 (link).
Masters thesis defence by Mihaela Bergman
Many 

congratulations

 to Mihaela, who today successfully defended her thesis on the effect of stress factors on protein aggregation in mental illness! Mihaela has been part of our research group for a long time and, having presented her vast amount of research, will soon head off to Lisbon to gain further lab experience.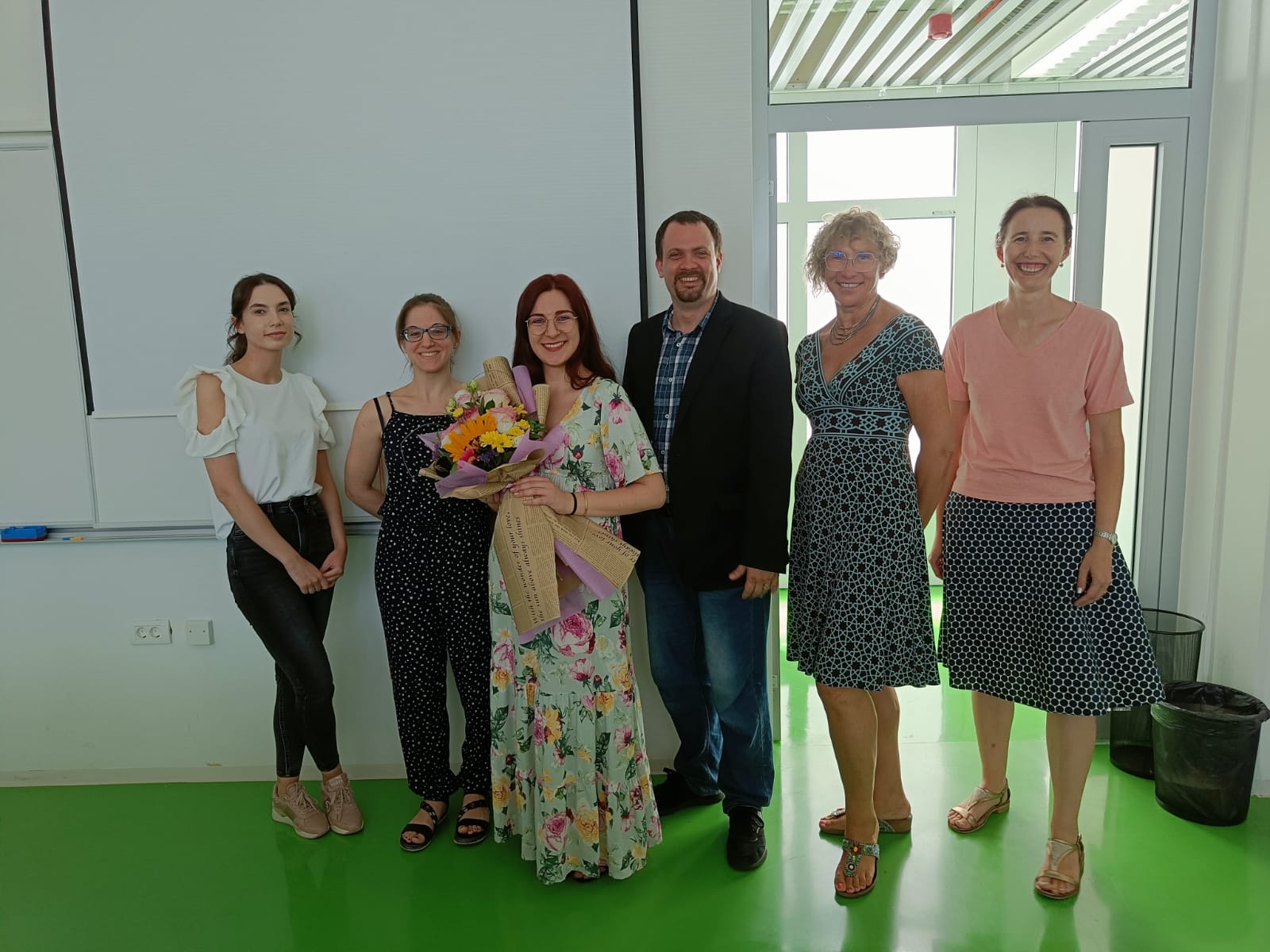 FEBS Young Scientists Forum and meeting
Beti Zaharija is currently in Portugal, where she is attending the IUBMB-FEBS-PADMD Young Scientists Forum 2022, a prestigious event for doctoral students which she won a place at. She will then stay to attend the societies' general meeting in Lisbon, where she will present her research on the DISC1 protein and its aggregation in major mental illness.
Visit to the University of Bremen
Nick Bradshaw was invited to Bremen last week, with funding from Erasmus+, to give several teaching lectures to master's students, and also discuss possible ways of linking Bremen's research-based international program Biochemistry and Molecular Biology with Rijeka's very similar program, Biotechnology for the Life Sciences. This happening as part of YUFE, an alliance of young European universities, of which Bremen and Rijeka are both part.

Presentations at ISCOMS in Groningen - and a prize winner!


Congratulations

 to Mihaela Bergman, Anja Hart and Maja Juković for their presentations at the International Student Congress of (Bio)Medical Sciences, held last week in the Netherlands - and particularly to Anja who won the prize for best Cell Biology presentation!
SIRS 2022, Florence
It was great to see so much interest in our protein aggregation story at the Schizophrenia International Research Society meeting, both for our symposium with international collaboration partners and for Beti and Bobana's posters. Next up: Maja Juković, Mihaela Bergman and Anja Hart will be presenting posters at ISCOMS in Groningen (Netherlands) this June.
Aggregation symposium at the Schizophrenia International Research Society meeting
This week, Nick Bradshaw, along with colleagues Drs Frederick & Leslie Nucifora (John Hopkins University, Baltimore), Prof Mirian Hayashi (UNIFESP, São Paulo) and Prof Dr Carsten Korth (Heinrich Heine University, Düsseldorf) will be holding a symposium entitled "Protein misfolding and aggregation: Biological consequences for schizophrenia and related disorders" as part of  SIRS meeting in Florence (also online). This will be the first ever symposium dedicated to protein aggregation in mental illness.  At the same event, Beti Zaharija and Bobana Samardžija will be presenting posters of their work on aggregation of DISC1 and co-aggregation of proteins in the brains of suicide victims, respectively. 

Congratulations

 also to Bobana who won an Early Career Award to attend this meeting.
Doctoral "topic" defence completed
Congratulations to Bobana Samardžija who successfully defended the topic of her thesis "Parallel aggregation and co-aggregation of proteins in mental illness". Topic defences mark a half way point in her doctoral studies, where she presents and defends her plans for the remainder of her studies. In her case, with many references to Marvel movies.


New student from international research masters course
Angelo Novak joined our lab today for the start of an 8 week laboratory apprenticeships, as part of the Department's English language research masters program "Biotechnology for the Life Sciences". Applications for this course for 2022-2023 are also open now: see biotech4lifesci.uniri.hr and www.youtube.com/watch?v=D-VV4ehD_Zw

New students
We are happy to welcome former student Maja Juković back to our laboratory. Maja is beginning her doctorate as part of a collaboration between our group and those of departmental colleagues Dr. Daniela Kalafatović and Dr. Ivana Ratkaj.

We are also happy to welcome Lana Par and Mario Babić, undergraduate students in our Department who will be do research projects in our lab over the next few months.
Collaborative grant with colleagues in Germany, funded by the Alexander von Humboldt Foundation
We are pleased to announce that, in collaboration with our colleagues Dr. Oliver Weiergräber and Dr. Abhishek Cukkemane from the Forschungszentrum Jülich, we have been awarded a research grant from the Alexander von Humboldt Foundation. This "Research Group Linkage" grant will, over the next three years, allow the two groups to work together at understanding a key protein involved in mental illness, DISC1, while including research exchanges between staff and PhD students in both laboratories.

Our new article on NPAS3 aggregation
We have just published a new paper on aggregation of NPAS3 and mental illness in the Journal of Personalized Medicine. Led by Bobana Samardžija and Aristea Pavešić Radonja, this looks at a protein previously only known to misfold/aggregate in a single family with schizophrenia, and finds this to be something that also happens much more generally. We also find evidence of NPAS3 in the blood of patients with schizophrenia. You can read it here (link: https://www.mdpi.com/2075-4426/11/11/1070). Funded by HRZZ IP-2018-01-9424.
New arrivals in the lab
Welcome back to Anja Hart and Tina Fartek, who are returning to our group for their master's projects, and to Željko Agić, who will be doing a project jointly between our group and that of Prof. Rozi Andretić Waldowski.
An especially big welcome to Bernard Szlenzak, who has just joined us for an Erasmus research traineeship.
12/10/2021
Poster presentation at the Croatian Neuroscience Congress
This week (24th-25th September), Maja Juković will present data from her thesis at the Croatian Society for Neuroscience meeting, which this year is being held online here.

20/09/2021
Masters thesis defence - Simone Ruhije Bertoša
Huge congratulations to Simone who also defended her thesis successfully on Friday, while also probably setting a record for most attendees at an online masters defence...
20/09/2021
Masters thesis defence - Maja Juković
Many congratulations to Maja who defended her thesis on TRIOBP-1 a few days ago, following a huge amount of work and an excellent defence!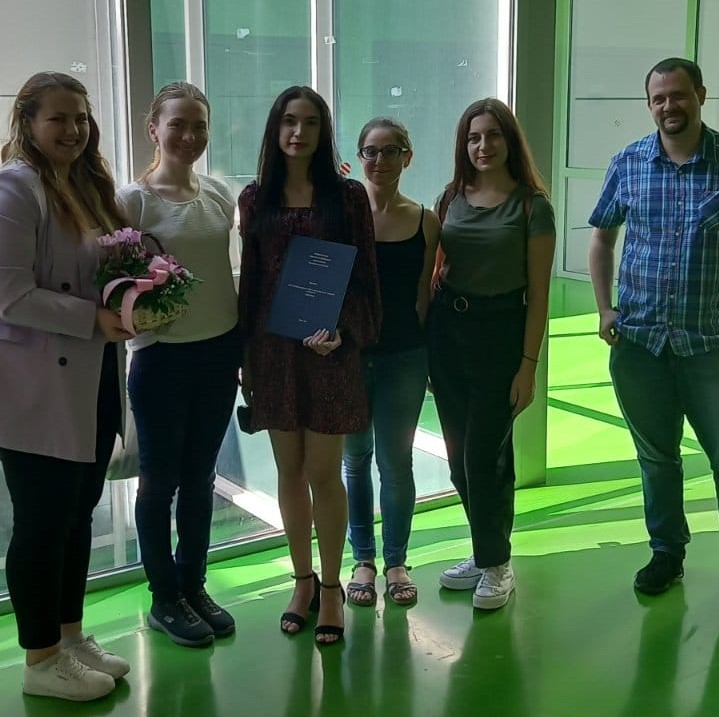 11/09/2021
Undergraduate thesis defended - Martina Jeremić
Congratulations to Martina who successfully defended her thesis last week on links between proteins in mental illness and neurodegenerative disease.
19/07/2021
Presentations at Mind & Brain congress
27th-30th May, (registration free)
This weekend, we will be attending the Mind & Brain congress (www.pula-cong.com), which will be held online and is free to register. Beti and Bobana will each deliver a presentation on their results concerning aggregation of DISC1 and NPAS3 respectively. There will also be a panel discussion featuring them and Nick on Saturday at 12:00 CEST. 
 26/05/2021
Presentations at NeuRi 2021, 23rd-25th April
This weekend, several of us will be giving presentations at the NeuRi student neuroscience congress (based in Rijeka and Rab, held online this year) on our research concerning protein aggregation in mental illness. On Saturday, Simone & Patricia will discuss identification of aggregation critical regions, Mihaela & Maja will discuss co-aggregation, Anja & Tina will give updates regarding the TRIOBP-1 protein and Martina regarding the DISC1 protein. Then on Sunday, Nick will deliver a plenary lecture on the topic.
23/04/2021
Does mental illness come from our genes? / Potječu li mentalne bolesti od gena?
Recently, as part of Brain Awareness Week, Nick and Bobana gave remote presentations to secondary/high school students in Rijeka, introducing them to mental illness and how we study them. The videos of these presentations are now available online in both English and Croatian.
23/04/2021
Research masters in biotechnology - Applications now open

Our Department's research-focussed international masters program "Biotechnology for the Life Sciences" is accepting applications until February 28th, for students to begin October 2021. You can learn more on the course w3ebsite:www.biotech4lifesci.uniri.hr or hear more about it in our promotional video: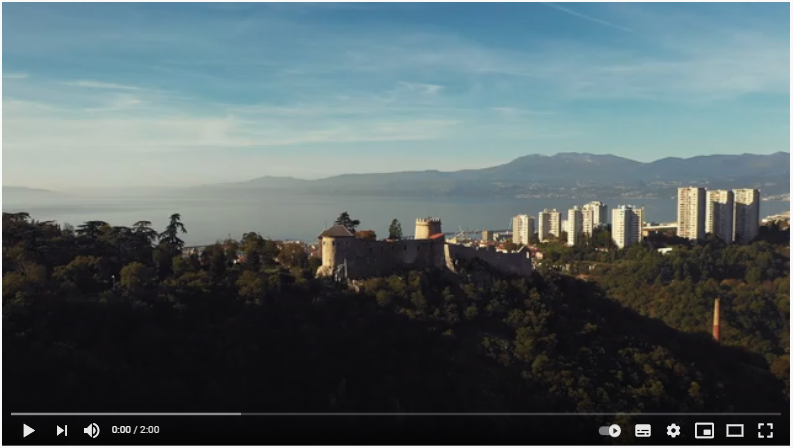 You can also read our article on Total Croatia News (in English) or watch our interview for Kanal Ri (in Croatian)
05/02/2021 
Our review of TRIOBP is now online
We have just published a review article on the TRIOBP proteins, and their roles in many diseases including mental illness. You can read it now (open access) in the journal Molecules.
https://www.mdpi.com/1420-3049/25/21/4967
27/10/2020
Congratulations to graduated students
Well done to lab members Bobana Samardžija (masters), Tina Fartek, Anja Hart and Kristen Tkalčec (undergraduate) who all successfully completed their projects, in spite of lock-downs, and defended their theses over the summer.
And a welcome back to Bobana, who has now taken up an HRZZ-funded PhD position in our group.
27/10/2020
What causes mental illness?/ Što uzrokuje mentalne bolesti? 
Would you like an introduction to how we study mental illness? Take a look at our recent (bilingual) YouTube lecture, given as part of the Festival znanosti (Festival of Science). Click here
27/10/2020

Virtual presentations at DISCOMS - June 4th 2020
This week, Beti Zaharija and Bobana Samardžija will be presenting posters on protein aggregation in mental illness at the (Digital) International Student Congress of Medical Sciences - click here. ISCOMS was originally scheduled to be held in Gronignen, but Beti and Bobana will instead be presenting live from Rijeka and Jülich respectively.
02/06/2020

Brain Awareness Week 2020
As part of Brain Awareness Week, neuroscience staff from the Department of Biotechnology will be giving free public talks and activities at the MOHO Centre in Opatija every evening from 16th-20th March. Our talk "What are mental illnesses and where do they come from?" will be held on Wednesday 18th. More details are on the MOHO/Festival Opatija website: www.festivalopatija.hr/moho-centar 
06/03/2020
Graduations
Congratulations to Beti, Ines and Maja, who became the first students to be awarded their masters degrees from research in our lab. They collected their degrees last week, variously from the programs "Medicinal Chemistry" and "Biotechnology in Medicine".
24/02/2020


ERASMUS exchange
Bobana Samardžija, who is completing her masters in the lab, will this week be travelling to Germany, for a four month ERASMUS+ exchange at the Forschungszentrum Jülich. Schone Reise!
 24/02/2020
Research Masters Program in English
The Bradshaw lab will be participating in our department's new international masters program "Biotechnology for the Life Sciences", which launches this year. It is a research-heavy program, containing more than 50% laboratory time, and will be taught entirely in English. For students starting October 2020, there are no tuition fees, courtesy of support from the EU. The application process will be opening in the next month or so, in the meantime more information can be found on the course website: biotech4lifesci.uniri.hr
21/01/2020
Welcome
Welcome to our new website! We are a young and developing research group, who began at the University of Rijeka in 2018. As our work develops, we will describe here our new findings, publications, presentations, and other information that we hope you will find interesting.